Here are the best best online marketplaces. Many countless small businesses consider international expansion but are usually under confusion
To begin, due to high shipping costs, customs and tax concerns, and a lack of credit cards in developing nations.
Despite internet retailers' being unaware, they can utilize the same strategies they use to market to domestic customers to sell to international ones.
Contemplate internet markets.
Creating a country-specific retail website can be time-consuming and costly (language barriers, etc.).
However, selling on local internet marketplaces might be a relatively risk-free option for your small firm to expand internationally.
By leveraging the infrastructure of existing markets, you can easily reach international consumers.
To guide you in getting started, we've compiled a list of the best online marketplaces your small business should use to sell internationally.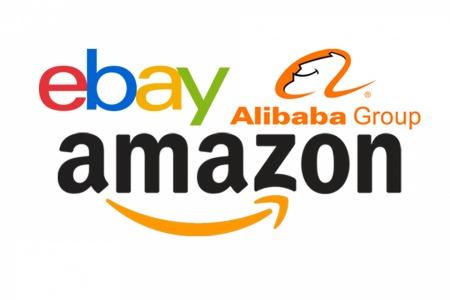 Amazon part of Online Marketplaces
Description
Today, Amazon is still the leading multinational technology business headquartered in the United States that specializes in e-commerce, cloud computing, digital streaming, and artificial intelligence.
It is dubbed "one of the world's most powerful economic and cultural forces," and is one of the world's most valuable brands.
With Amazon, you can sell, buy and promote their products to earn money. Since then, it is the very best world's best online marketplaces
Ebay
Description
eBay Plc is a global American e-commerce company headquartered in San Jose, California. Its website facilitates consumer-to-consumer and business-to-consumer sales in the world of online market places.
eBay was founded in 1995 by Pierre Omidyar and quickly rose to prominence as a dot-com bubble success story.
AlExpress too is one of the Online Marketplaces
There also AliExpress a Chinese e-commerce platform owned by the Alibaba Group.
Small businesses in China and other countries, including Singapore, sell to international online buyers using AliExpress.
It is Russia's most popular e-commerce website and Brazil's tenth most popular website amongst other online marketplaces.
Ali Express is enabling small businesses to sell to customers worldwide.
Therefore, it is worth a mention.
Alibaba
Taking note of Alibaba Group Holding Limited, Chinese multinational technology conglomerate focused on e-commerce, retail, the Internet, and technology, can not go not mentioned.
Esty
Etsy, Inc. is a California-based e-commerce company specializing in handmade and vintage goods, as well as craft supplies.
These items are classified as jewelry, handbags, clothing, home décor and furniture, toys, and art, as well as craft supplies and tools. Items must be at least 20 years old to qualify as vintage.
Rakuten
Rakuten has as one of the online marketplaces paid over $2 billion in Cash Back to its members, which is one of the reasons it is the #1 Cash Back shopping companion.
To be sure of this, simply ask your community's 15+ million members.
Link to Rakuten
For Africa, there is the giant Jumia.
Readers also read Customer Interactions